In just few days the world will see our game Spice Invaders. We are very excited about the launch here at On5, and even decided to write a big "making of" post which will show how we did this game.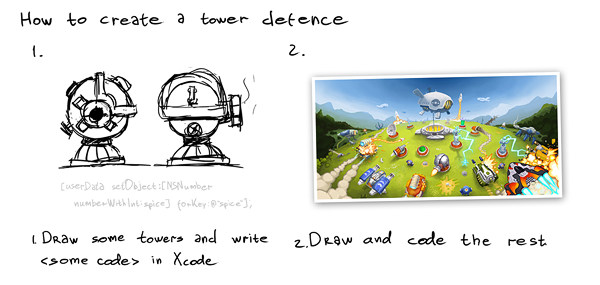 It all started back in march 2010 (almost 2 years ago, hard to believe how long ago that was) when we were thinking about making a new game. There were no tower defense games in the app store which were both interesting and beautiful (maybe we just didn't find, who knows). On top of that, there were no multiplayer TD strategies at all. This is a very early sketch of the planned multiplayer modes. Three of them made it to the final version: competition, camps, and cooperative.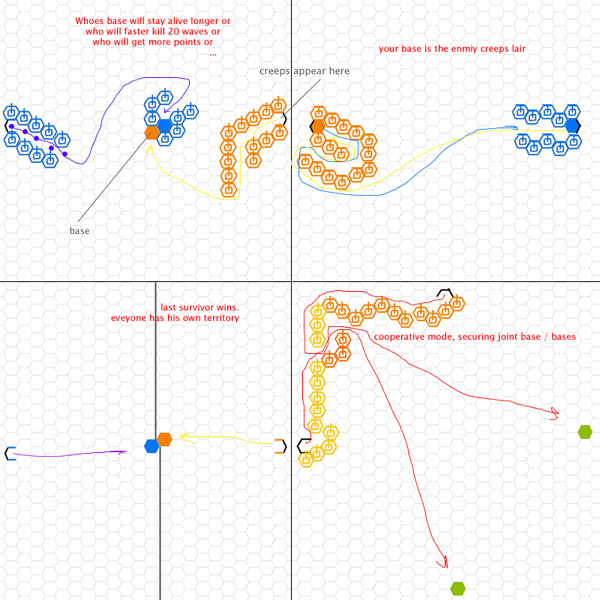 And the code magic began. Step by step in pretty short timeframe we've got ready: basic gameplay, level editor, and a few testing levels, so the game started. Also we were playing around with the assets, choosing the final style for the graphics and thinking about the storyline. The first tower took longest to create (take words "sketch", "render", "discuss" and "reject", mix them in any order 10 times and add "eveyone is happy" in the end, that's how it was). Here are just some of variations we had in the works.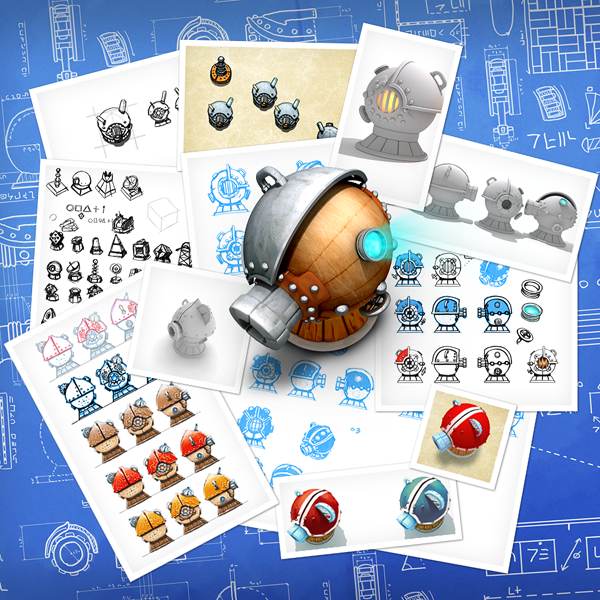 If we spent the same amount of time to polish each tower we now have in the game, we would still be pretty far from completing anything. But luckily, all other 53 towers (6 types, each type has 3 development lines, and each line has 3 upgrades which is 54 possible tower upgrades) were created much faster. We actually revised some towers a few months after, but that was just our will of perfection.
We created a huge load of maps: about 80. Only 58 best ones made it into the game. Planning to add more in the future.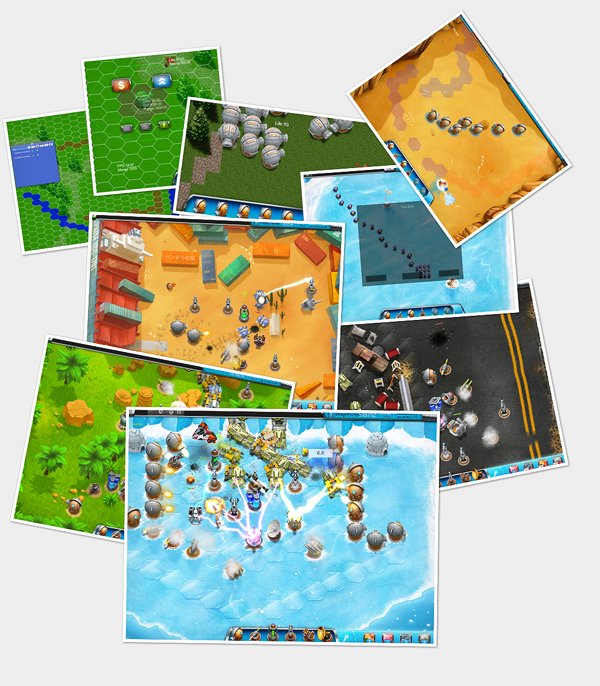 We've also worked on creeps (the enemy units you defend your bases from). Same thing happened there. We wanted to find a unique post-apocalyptic style for humans, futuristic but not fancy at the same time. Soldiers, robots, tanks, planes. Done and redone a number of times 😉 In a few months we decided to add more creeps, and colored the existing ones too. It worked perfect.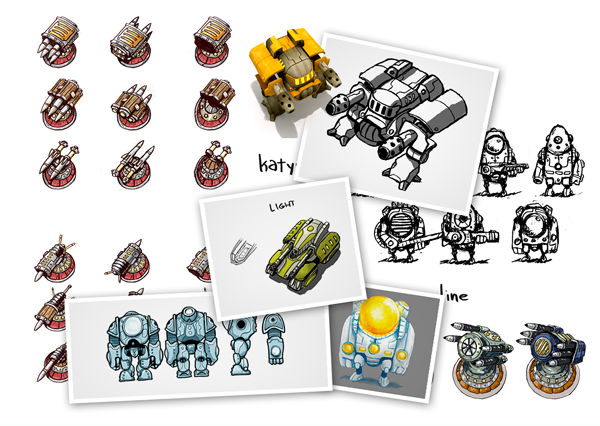 By design humans had to be technological, not fancy, in contrast to the pirates who are pretty and kind of old-school. We've selected steampunk as the style for the towers (however not so much left from the initial feeling of steampunk we had in earliest sketches) and cute style for the main heroes, our pirates. Hard to say who exactly they are, but we called them mini-bears at some point. So.. here we go. Meet the team!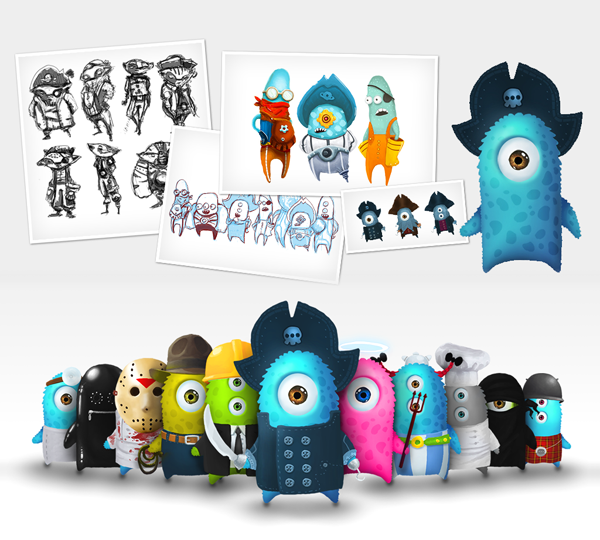 Ever wondered what a nuke consists of? Well, it starts with an egg. Then you paint it like you do for Easter. Add a couple of stabilizers, and here you go: a nuke. We have three different nukes to choose from in Spice Invaders, each with its own look.
A game like this needs the main menu. The idea was pretty simple. Main guy (the player's character) is standing on the stage like a boss. Menu items are on the right in a spice tank. Everything is simple and straightforward: Sketch, cleanup, draw, adjust, cut, integrate, animate, fix issues on different devices (if you call that simple…). We also added the player's friends with their stats to the stage later. Now it's social.

Need an icon? No problem, our artists just created about 50 variants to choose from! 🙂 A bit too much. It ended up having a global poll in our office and at Chillingo to choose which one is the best. We think we selected the right one.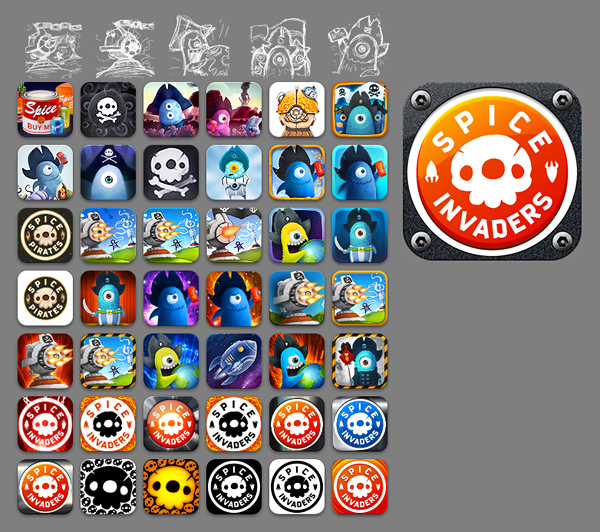 When you tap the icon for the first time you see the introduction movie which shows who the pirates are and what they are up to. You probably already saw this movie in the trailer. Here is how it was created. From the idea to concept art to finalized artwork. Actually the entire world shown in the video, from the first pirate with a can of spice to Earth is a single very very wide scene. At least that is how it was drawn.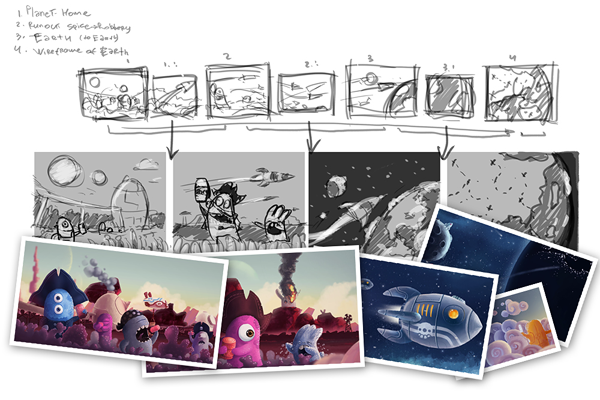 This is the trailer where you can see the intro clip:
We were working with Chillingo as the publisher for the game. People there really know what they do and gave us lots of great advices on how some things should be done and how other things shouldn't be done. Great experience. Thank you guys!
Sometimes when you are really passionate about what you do, you can't notice the flow of time. When development was completed, we calculated the time spent. We spent about 11000 hours in total, making this game. Artists, engineers, sound designers, producers, etc. It costed us a lot more money than we expected. But the idea was simple: either make this game the best in its genre or just not do it at all. Whatever it took, we did it.
The pirate fleet is waiting for a signal to start the invasion. Spice Invasion.